The Biggest Paintball Scenario Tournament Ever in Malaysia!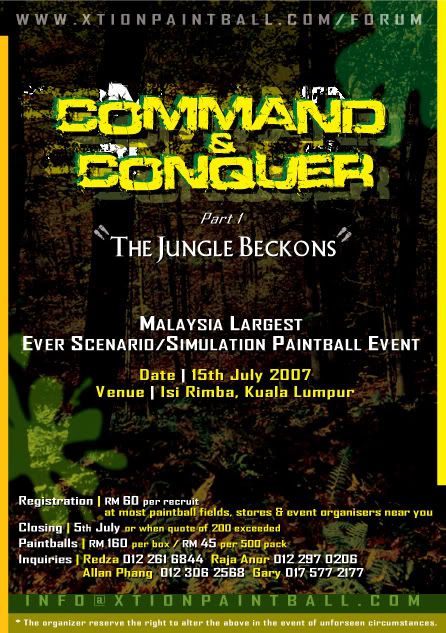 If you don't know what Scenario Paintball is all about, Wikipedia covers it pretty well. Here's the link. http://en.wikipedia.org/wiki/Scenario_paintball

If you already know, please continue.



Scenario/Woodsball Paintball

Time : From 8am till 5pm.
Date : 15 July 2007 (Sunday)
Venue : Isi Rimba, Kuala Lumpur.
Registration Date : From Monday 25th June 2007 onwards
Registration Dateline : 10th July 2007 or when quota filled
Expected Participants :200-250 troops

Please refer to these links to follow the updates concerning the battle:

http://xtionpaintball.com/forum/viewforum.php?f=157

DOWNLOAD REGISTRATION FORM HERE!

-----------------------------------------
Schedule:
-8.00am Registration & Preparation
-8.45am Enter respective Bases
(After 8.45am,latecomers will have to wait till truce time to join in the fray)
-9.00-10 am Check out base and Customise
-10am Sharp The battle commence automatically.

-Truce for Lunch at 1-2pm
(Entry of late troops who missed the morning registration will be permitted during this time)
-2pm sharp Battle Restarts automatically.
-5pm sharp Battle ends...Winner Declare
-5.30pm-6pm Awards & Prizes

We have several recruitment centers for the upcoming battle.

At this time:

Please register your interest with:
-Xtion Paintball-Allan/Redz/Gary(Bukit Jalil & Subang USJ 9)
-Werdna Hol-Patrick or Andrew(Subang Jaya-SS15)
-Skirmish Paintball Asia-Raja or Azlan(Damansara Perdana)
-Paintball United-Matthew(Seremban)
-Dynamic Paintball-Haji Amin(Johor)
-PSS Asia-Shafril(Shah Alam)
-War Museum-Johari(Penang)
-MPOC partner-Dennis(Penang)
-Red Sevens-Ben(Singapore)
-Delta Paintball-Roslim(Gombak)
-Penang Paintball Forum-Shion(Penang)
-Isi Rimba-Roselan(Ampang)

*Maybe more to come...

Recruitment forms will be out by early next week.Where you register may determine which squad/platoon/company/army you or your squad fights for.Supplies of ammo and logistic assistance will be affected the same.

I) Recruitment fee : $60 per man
II) Ammo(Paintballs): $160 per box(Will sell loose too..by packs of 500@45 each)
III) Compressed Air and CO2 will be available.

F&B will be available for sale but you can BYO.

Everything else you can think of...for now BYO.Eg.Talkies,Radios,Binoculars...etc.