WCA – World Cup Asia Paintball tournament was deemed the biggest event for the 2007 tournament seasons. It was indeed a long awaited event which brings together paintballers from all across Asia if not from all around the world. The word WORLD brings the tournament to a higher significant level. Participants came from all over Asia countries, anticipating somewhat a higher if not a world class tournament. The infamous Reaper, Datis, Global Gutz, Sydney Shock and Ku to name a few, joined our local teams like Raskal, Zealous, Ballbusters, Nemesis, Demonz and Demonz Red to compete in an International level tournament organized by our very own local organizer.

The promotions, the advertisements and the parties held were almost grandeur. The registration fees and even the ID tag cost a bomb. This year around, we were surprised with MISS WCA Pageant, a pleasant one to all the drooling guys. With that all in lined, everyone was expecting a smooth and well planned event.
But despite all that glitter and hype, many unwanted incidents and mishaps happened during the laborious 3 days.

On the first day, only division 3 teams were scheduled to play, with 12 games for round 1. Games were all behind schedule even when players were called for back to back games. We were provided with a compressor and 3 fill stations that can produce 4500psi but it was hardly reaching 4000 psi most of the time. It even came to a point where we could only get up to 2800psi. Perhaps Ego, DMs, MARQs and DROIDS users could do with that amount of air pressure, but to Shocker users, it's suicidal from the starting gate. This incident happened not once or twice, but maybe to every Shocker users. There were only 3 fill stations to support hundreds of players lining up to fill up their tanks. The commotions have even started from there.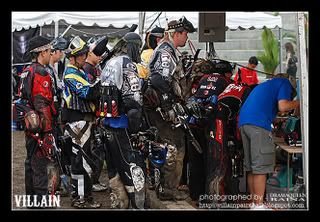 There were 20 teams participating in Division 3 and to go for another round of games before quarter finals was incongruous. The best of 16 teams after the preliminary rounds were scheduled to play for second round of games at 4.15pm, but somehow it was dragged to 7.30pm. The pro-longed demo games were largely to be blamed, some says. 6 teams played in the dark, with only 2 spotlights from one side switched on, leaving the other side of the field totally gloomy. Meaning to say, whoever was playing on that side are better off dead than shooting blindly, because they can hardly see a thing. Right after these "guinea pig" teams finished their games of "darkness" no team wanted to play. Everyone gathered and protested. Finally they gave in, and division 3 round 2 games were supposed to start at 7.00 am the next morning. Players complied without any fuss and came as early as 5.30 the next morning. But organizers were late again. There's no telling that the teams had to be in the next game even before they finished their current game.

Medical teams were not fully prepared and competent enough to support the injured players. There was a time when one of the Japanese team players had a strain and no one was able to help her out. Luckily, one of Datis players is a doctor and he came to the rescue. There were a few more episode of incompetent medical team but this was the only one I witnessed.

Pellets price were also increased at the very last day, with the excuse given that they ran out of stocks for the RM235 pellets. Qualified teams for the third day had to pay extra RM30 for each boxes, somehow it felt rather like a punishment than a reward by qualifying to finals. If more profits are what the organizers are seeking for, shouldn't the unnecessary round of games for all divisions make up to it? Perhaps I am in no position to ask or to judge the experienced businessmen.


One of our very well known photographers was somehow prohibited to take pictures for the WCA. He threaten to boycott the event along with other photographer for being insulted such way by an arrogant scallywag who told him off. Only after being cajoled by the organizers that he agreed to forget about the unpleasant episode and continue shooting pictures.

Have I mentioned albeit the high-priced registration fees and pellets, players were placed in an undersized tent, which to be shared with other four teams. If organizer's intention was to let them mingle, they definitely have achieved their objective. A few international players was so "contented" with the whole situation they just had to leave earlier, with fond memories and treasured experience carved on their mind.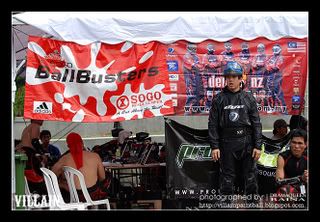 After 3 days of bathing under inconsistent rainy and sunny weather, players were worn out and dead beat and winners were hoping to feel revived and recharged during the players party held for prize giving ceremony. Exasperated and cheesed off, most of the players did not even get the FREE drinks as promised by the organizers. When asked to the lady in charged, she effortlessly told me she ran out of coupons and did not know what to do. What mere humble beings such as yours truly can do but to bite my lips and walk away? The ladies could get away with free drinks but the guys had to share drinks with their girlfriends, if they brought along any.

The prize giving ceremony was not efficiently worked out despite Yosh Rau giving away kisses on the cheeks to winners. 3rd place winner was asked to give out a speech but 2nd place was not. It was all haywire.

Overall champion, be it for Division 3, 2 or 1 should be treated equal not lesser. Zealous won the overall champion for Division 3. But despite being awarded and presented with medals or trophy, they were left high and dry on stage much to their embarrassment. They looked to each other and wonder why were there no prizes given? It was such a unique way to honour a team of talented players. If there were no prizes or medals allocation for them, why were they called up on stage? The team had enough of publicity they don't need a substandard one.

I did not stay long for the party as it has lost its essence to most of us. I presumed the MISS WORLD CUP PAGEANT was their peak event that night, hence all attention, and spotlight was for that particular affair.

Perhaps I did not give enough credits to the organizers for throwing away free caps to players that nite, for inviting hunky PRO Players to the event, but it doesn't make any of these forgettable. To the organizers, players are your customers, your source of income. Once they are bitten, they'll think more than twice to come back for your tournaments. They do not asked for much, just mutual appreciation and resoect. Despite the huge amount of money spent and only a molecule of return of investments, they were still there to support you.
Let's pray everyone get their prizes accordingly this time.
Keeping my finger crossed!

DQR – No More Drama!