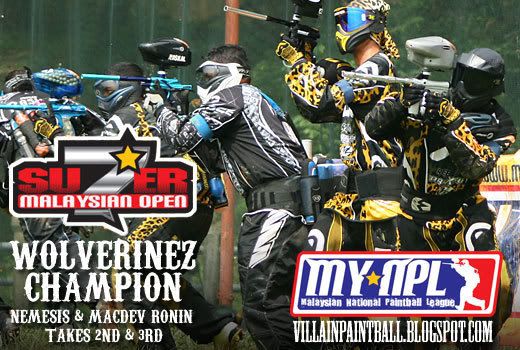 It was a super super Sunday. Nobody would have guessed a D3 team coupled with Raskal players would made it that far. I myself guested with
Macdev Ronin
and I had a blast. Some problems with the compressor in the middle of the day, but somewhat sorted by the end. I truly believe we could've made it to the finals it not for some equipment issues, but hey.. that's luck. For us (Macdev Ronin) it come at the worse time, in the semis. But we had a good one. We all did.
Since I was playing, Queen Rina and her stand-in photog cum teammate Khairul of BB, took some photos. Our dear friend Nizam (Battosai) tooks some photos & videos as well. Of course you guys might noticed, Epul from
Banstarz productions
going around taking videos as well. So, let's have some updates ya! wohoo!!
Here's the official results
Division Pendekar:
1. WOLVERINEZ
2. Nemesis
3. Macdev Ronin
4. Werdna Hol
Division Pahlawan
1. Shimigami X
2. Planet Raiders
3. Rainforest Legion 7
4. Screaming Eagles
Photos will be up soon this
week
ok lah, some today. So, have patience ya.
Gallery 1 - 308 photos
Photos by Battosai & Rina
Gallery 2 - 2 videos
Camera Operator - Battosai
Editor - Kherox
MY-NPL Super 7 Games #1MY-NPL Super 7 Games #2
Includes interview with Wolverinez, Raja Khairul, Hasnatah, Ah Wey & Wong