JUNIOR SPORTS CARNIVAL 5on5 Novice PB Tournament 2007
30th June-1st July

Venue: Stadium Bukit Jalil, Kuala Lumpur.
Closing Date: 28th June 2007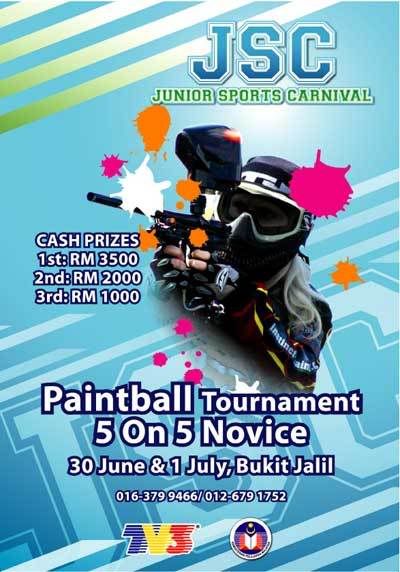 View the form here.
For further information, please contact:
016-379 9466 / 012-679 1752
Good tournament to start for newbies. You can expect things like goggles & markers are provided. Call the numbers above for details.
Good luck!
--------------------------
Here are the official result for the 2007 Junior Sports Carnival 1st Round Kuala Lumpur, Kompleks Sukan Negara, Bukit Jalil, Kuala Lumpur.
Novice:
1st = ZEALOUS
2nd = OSCAR LEGION
3rd = CRAZY CHAOS
4th = WAR RIPPERS
Congratulation to all winner.
Seeya in
JSC07 -2nd Rnd Kuala Selangor (28th-29th July 2007)
Log in to
jsc@tv3.com.my
or call 016-379 9466 / 016-332 3777 for more info
&
MY-NPL07 -4th Rnd Malacca (11th-12th August 2007)
Continue to stay tune to
www.my-npl.org
for any new development in Malaysian Paintball.
"Toward A Better Paintball Year 2007"