Kaymo's place
It's almost 2 am, and we're waiting in front of our teammate's place. Waiting for him to get back from some dodgy dinner thingy and pass us some equipments. Numerous calls to his handphone went unanswered. After a quick supper at some restaurant near his place, we called again.
.....
No answer. Bangsat tul. Tido mati la nih.. (ke tak mau kasik lepas EGO7 tu? huhuhu..)
"So camner ni?" We all looked at each other and decided its best if we leave now. The trip to Gambang would take about 3 hours, then another 1 hour to Pekan. If we're lucky enough not to get lost.
"Okay. Jom blah la.." Hampeh nyer Kaymo..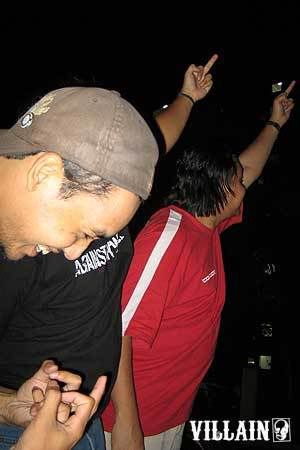 "Nah amik ko! Pi la tido!"
The Trip
After a long 3 hours drive we managed to find out way to Pekan. Kherox was driving steadily, while Jr, Harry & Me, dozed in and out. Hehe... It's about 6.30am and the sky greets the sun from the east.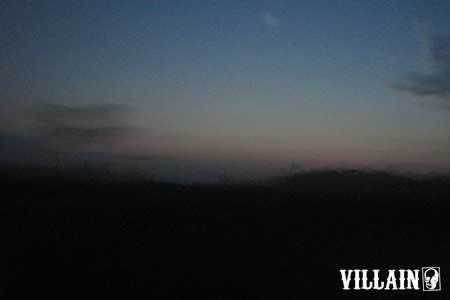 After about 25 minutes of driving, we've reached the main town. Pretty much deserted on Saturday morning. But then again, this is a small town, so everything probably is relax and calm, not as busy as the city.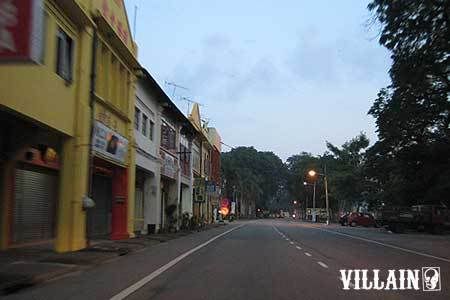 Another few minutes we spotted the tournament venue, the Sekolah Sains Sultan Haji Ahmad Shah field. Looks decent enough. Now we've found the place, we decided to look around the small town for awhile and come back to the venue. Still too early I guess, since nobody was there yet. We took the opportunity to walk-the-field while the organisers and novices & closed category players slowly make their way to their tents. By 9am, the crowd has swelled up. We were told that there are 120 teams playing in closed category! Mak aihh!! and luckily they're playing only 4 games.
Players waiting for their team to be called into the field.
It's almost 10.30am, and we're on the move again. This time another 1½ hours to Kerteh - Terengganu, where we will be staying at a banglo by the beach! Hehehe... sempat lagi mandi laut ni kan? On the way there, we stopped by
Pak Su's seafood
but its not open until 11.30am. 30mins to go, so we ate a nearby stall and decided to return to Pak Su for dinner later. We reached Kerteh about 2.30pm and after abit of freshen up, we took a nap. Hehehe.. just plain tired.
Dinner at Pak Su
After a few hours later we woke up, it's almost 6.30pm. No time to go to the beach if we want to make it to Pak Su. it's a 1 hour trip at least.
"Aduh.. laparnyer.." Jom pergi je la makan.
A quick cold shower for everyone and we drove across state back to Pahang.
The place was packed! Haisehh.. "School holidays laa.." kacau betul. Found a table and immediately placed our order. Saw couple of familiar faces there as well. Hehehe..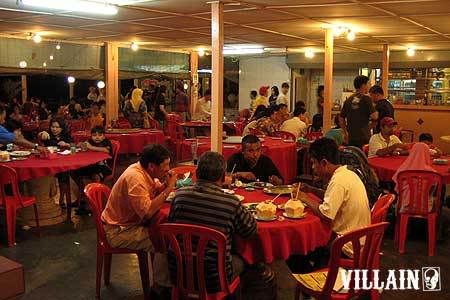 It's packed at dinner time!
What did we orderd? Hmm.. rice, steamed fish, buttered prawns, chicken lemon, fried squid with dried chillis & baby kailans. "Lazat tuh!" Especially with an empty stomachs.
After 20 minutes of waiting. They're contemplating eating each other.
Food is here! Jom makan!!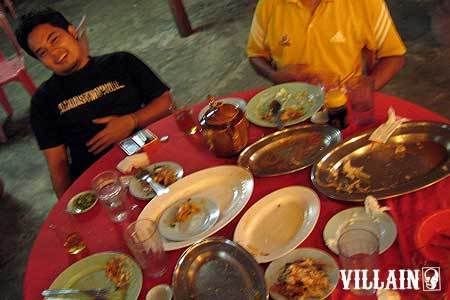 After less than 20 minutes. No more food.
Time to head back to Kerteh. Long day tomorrow guys. The bill came to less than RM100 for 4 persons. Dropped by a petrol station to get some snacks & drinks and we continued our drive. We decided to go further ahead abit to to see "Hantu Api" near those petroleum refinaries. Took a few pics and head back to our place.
From far away, they looked like they're on fire
Reached our place just after midnight. Played some games and went to sleep. We have to wake up again in 4 hours time for another 2 hours drive to Pekan. "Penat wooohh"
Huh, what was it again? 8-1 to England vs Brazil? Hahaha..
Part #2 to be posted soon...