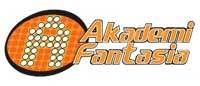 Well, this is rather late, but only today I got hold of their photos. Thanks to my buddy Wong from Delta Rovers & Tactical Action who supplied these photos.
Hah? What is err.. Akademi Fantasia?A background story:
Akademi Fantasia or simply known as AF is Malaysia's first reality show, which brought big changes to the Malaysian entertainment scene in the year 2003, when the first season of the show aired by Astro Ria.

At the beginning, 12 contestants (called students) will stay in a house called "Akademi" and spend their whole time practicing songs, acting and other activities that are related to performing arts. The classes are held by professional trainers (called teachers) that form part of a faculty.

The host of the show is Aznil Hj Nawawi, a popular Malaysian TV host. He is known for adding humour to the proceedings and will retire as a TV host for AF as of the end of the season 5. The academy is lead by the "Principal". For the past 4 seasons of the show, the principal has changed every year. The 5th season of the show ended recently on the 19th of May 2007.

The format of the show is taken from "La Academia", which originated in Mexico. Malaysia is the first country in Southeast Asia to have its own version of this show, and it has subsequently been followed by Indonesia and Thailand, all of which have been received better than the regional reach of the Idol series.

Winners of the series have all gone on to become the biggest selling music acts in Malaysia, with even former contestants making themselves a permanent fixture in the local music industry.

The winners of the first four seasons have been Vince Chong, Zahid, Mawi and Faizal who are among the biggest names in the music scene. The show just made history by naming its first female champion, Mila.

More reading here at
wikipedia
(yes, it's in here too!)
The week Aizat went out
29th April 2007 - So, the Akademi decides to take the students outside for a game of paintball. In some of the photos you can see characters from the
Astro Paintball Show - Platun
giving tips to the students.
The Gallery