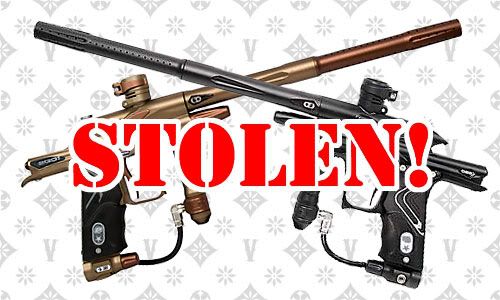 Some of you might already know, paintball gears belonging to NPL Divsion 3 team, "Khalid's Team" have been stolen from their car. This happend at the Crystal Crown's hotel parking lot, and it's just behind MAPAAC. They were on their way from Kuantan to JB for the JPL. It seems that the thieves have targeted them and their goods, and only stole those - nothing else. So, it's a high probablity, the thieves are also paintballers.

I'll post the serial numbers when I get them. But this will do for now. Here are list of gears stolen from them:

Markers Eclipse
2 x ego 8 color brown/olive
1 x ego 7 color black
1 x ego etek color black

Tanks
4 x Stako

Loaders
3 x Pulse
2 x Empire B2

Jerseys n Pants
6 x Proto o8 color grey
5 x Eclipse 08 color red

others
- elbowpad eclipse 08
- hand glove nike
- proto pods

This case has been reported to the police. So guys, be aware of these markers at your paintball place. If you know of their whereabouts please contact Afzan Khalid or Sofian Daud. Anybody caught using these stolen items will be prosecuted.