Last Sunday, Kherox and myself were in Xtionpaintball to catch some teams practices for various tourneys. We know the Banditos will be there, but we're not sure about other teams. We came to shoot a promo video for Paintball United's new product, the Speed Feeds!. Watch about that product reviewed in our latest Villain video soon.




Oh back to the team practice games, it turned out an exciting day for us as we get to skirmish with a number of teams! Not to mention some cool actions on video we got as well. Teams that turned out last Sunday (in no particular order) are Banditos, X-Fox, Guns n Bruises, Nemesis, Sogo Ballbusters, Demonz, GanG, WK Army and more! There were still players coming in when we left about 5pm.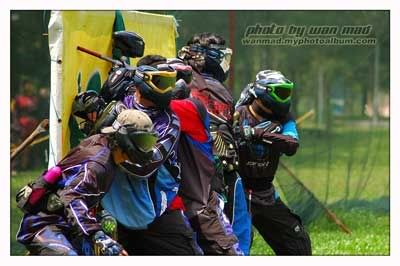 Okay, hope to post the video up soon.


---
To those who would love to
to feature their products or services, or whatever that's related to paintball in Villain videos,
please do not hesitate to contact us. We can have those
advertisements
at the back of the latest paintball videos. That way, you can 'bring the product/services' to the players out there!
both game pics taken by Wan Mad of team Assassin-X~Caranthir~