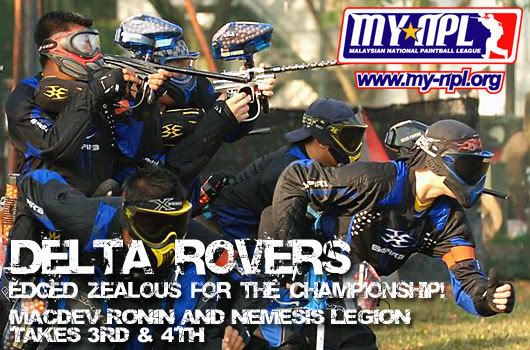 Here are the official result for the 2009 MY-NPL Event 1 - MAPAAC, P. Jaya. With the total participation of 85 teams.

Division 1: (11 teams)
1st = DELTA ROVERS (Selangor)
2nd = ZEALOUS (Selangor)
3rd = MACDEV RONIN (Kuala Lumpur)
4th = NEMESIS (Kuala Lumpur)

Division 2: (12 teams)
1st = JOHOR PIRATES (Johor)
2nd = NO MERCY (Johor)
3rd = OSCAR LEGIO X (Pahang)
4th = CMX (Kuala Lumpur)

Division 3: (34 teams)
1st = CMX BUCCANEERS (Kuala Lumpur)
2nd = OSB PIRATES (Johor)
3rd = ROUGHNECKS (Kuala Lumpur)
4th = FIREMAN (Negeri Sembilan)

Division 4: (28 teams)
1st = YING YANG
2nd = JS
3rd = ALPHA MARKSMAN
4th = INFIDELZ

Congratulations to all the winners.

Updates will be added in as I received them. Any feedbacks, comments or simply would like to discuss on the event, please do so.

___________________________________________

News Article from Sinar Harian

'2009' penyertaan terbanyak MY-NPL


PETALING JAYA – Penganjuran Kejohanan Liga Paintball Kebangsaan Malaysia (MY-NPL) 2009 yang memasuki tahun keempat mencipta sejarahnya yang tersendiri apabila mendapat penyertaan sebanyak 85 pasukan secara keseluruhannya.

Kejohanan pusingan pertamanya yang bermula kelmarin dan berakhir semalam di Akademi Paintball Malaysia, Kompleks Sukan Astaka di sini turut menyaksikan lebih 30 pasukan bertanding dalam Divisyen 3.

Pengarah kejohanan, Mohd Sofian Mohd Daud berkata, penyertaan kali ini menunjukkan peningkatan berbanding tahun sebelum ini.

"Kejohanan kali ini mendapat sambutan sangat menggalakkan terutama daripada pasukan baru dari Divisyen 4 dan juga Divisyen 3.

"Penyertaan dalam Divisyen 4 iaitu divisyen khusus untuk pasukan baru melibatkan sebanyak 28 pasukan yang terdiri daripada penggiat sukan paintball termasuk dari jabatan dan agensi-agensi," katanya.

Kejohanan yang menawarkan hadiah keseluruhan dalam setiap pusingan menyaksikan pasukan Delta Rovers menjuarai Divisyen 1 setelah menumpaskan pasukan Zealous 2-1 pada perlawanan akhir sekali gus membawa pulang wang berjumlah RM5,000 berserta medal dan hadiah sampingan.

Pada Divisyen 2 pula ia dikuasai oleh pasukan dari selatan tanah air iaitu Johor Pirates setelah menumpaskan NoMercy 2-0 pada perlawanan akhir.

Sofian berkata, selepas ini Bandaraya Johor Bahru buat pertama kalinya dalam lipatan sejarah MY-NPL menjadi tuan rumah untuk Pusingan Kedua MY-NPL 2009 pada 28 dan 29 Mac.

"Kita harapkan lebih banyak pasukan akan menyertai kejohanan sepanjang empat lagi pusingan yang menjanjikan lebih banyak saingan dalam usaha memburu gelaran Juara Malaysia selepas ini," katanya.

Hadiah kepada pemenang disampaikan Pengurus Program Sinar FM, Rostam Said.

___________________________________________
Scores
__________________________________________________
Photos courtesy of Wei of MAPAAC.